Learn the Benefits of Coriander for Kidney Disease, How Good?
KOMPAS.com – Prolonged medical treatment for kidney disease often makes some sufferers look for alternative ways.
One way to overcome this health problem is to use herbal kidney pain medications.
Some natural ingredients such as coriander are said to be effective in treating kidney disease.
But, you need to be careful. Avoid carelessly giving herbal medicines to people with kidney disease without the doctor's approval. Check out the following explanation.
Also read: 13 Signs of Kidney Disease
Eating certain foods such as coriander is said to support kidney health.
Reporting from SFGate, research published in Journal of Ethnopharmacology (2001) stated that consumption of coriander for 25 days in test animals can reduce lead levels.
The reduction in lead levels in the body is said to reduce lead-induced kidney damage.
The researchers made a temporary conclusion that coriander could help remove lead from the body and prevent kidney damage.
Also read: 10 Early Symptoms of Kidney Pain, More Often Women Attack
In addition, other potential benefits of coriander are said to be able to remove mercury.
These toxic metals can reduce the function of the kidneys to filter waste and increase the risk of kidney disease.
Another study published in Indian Journal of Experimental Biology revealed, the benefits of coriander seeds can prevent kidney damage due to diabetes.
According to research, coriander can inhibit oxidative damage to the kidneys by keeping blood sugar levels stable.
Things to remember in response to some of the research results above, the study is still limited to animal objects, or it is only in the form of initial research.
There is no scientific evidence that cilantro can help treat kidney disease in humans.
Also read: Function of Human Kidneys and Parts of Their Organs
Be careful using medicinal herbs or herbal supplements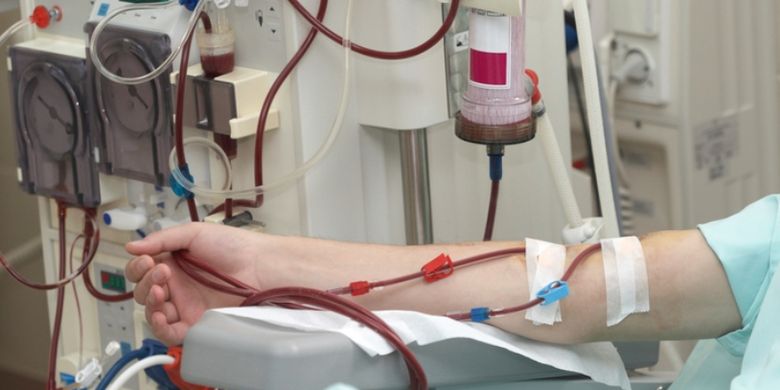 Illustration of dialysis.
The use of herbal medicines or herbal supplements for people with kidney disease should not be arbitrary.
According to the official website National Kidney Foundation, consumption of a number of herbal products can be dangerous for people with kidney disease, especially for patients who regularly perform dialysis.
Although some natural ingredients such as coriander have the potential to provide benefits to the kidneys, this does not necessarily apply to people with kidney disease.
Regarding the nutritional content of coriander, a food ingredient that is often used as a flavoring agent in this dish, including foods high in potassium.
Potassium is a mineral that needs to be limited for people with kidney disease, especially those with dialysis.
Also read: Be careful, diabetes and hypertension are the main causes of kidney pain
Launch page Indonesian Dialysis Patient Community, the recommended daily potassium for healthy people is 3,000-4,000 milligrams per day.
Meanwhile, for patients with terminal renal failure (CKD End Stage), the safe limit for potassium is limited to 2,000 milligrams per day.
Foods are said to be high in potassium if each 1/2 cup serving (about 115 grams) has 200 milligrams of potassium.
Meanwhile, according to Diet and Fitness Today, as much as 100 grams of cilantro contains 1,267 milligrams of potassium.
Before carelessly consuming coriander or other supplements to treat kidney disease, it is better for each patient to consult a doctor who handles it to make it safer.